¡Hola! La actualización de el día de hoy es sobre varios cambios que realicé la semana pasada tanto en la página principal como en el blog de Koori Style.

Primero, el layout de la página de inicio lo cambié un poco, pero lo dejé con un diseño sencillo, sin muchos colores ni elementos; tan solo con botones para las redes sociales y un gran botón para entrar directamente al blog; a continuación pueden ver las imágenes del antes y después… y el resultado final; estoy muy satisfecha con el nuevo layout, espero se mantenga así un buen tiempo antes que de nuevo me entre la idea de cambiarlo de un día para otro :P

:: TRANSLATION ::

Hi! Today's update is about several changes that I made last week in the main page of Koori Style and in this blog.

First, you can see the changes I made to the main page, which ended up with a nice and simple design; buttons for social media and a big button linking directly to this blog; you can see the previous images and the final result; I'm very satisfied with the new layout.


Versión 1.0 :
Versión 2.0 :
Versión 2.1 :
El segundo cambio es dentro del blog. En la barra lateral cambié los iconos de las redes sociales por unos más sencillos y divertidos. También el botón de la sección de "Link me" fue renovado con uno que va más acorde al nuevo diseño de Koori Style.
The second change is in the sidebar of this blog; I changed the social media icons with cute new ones. Also the button in the "Link me" section was remade.

Antes: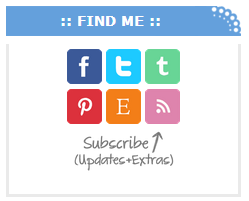 Después: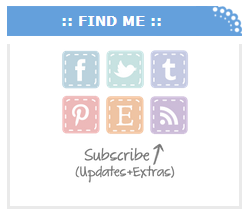 Por último, la sección de "
Galería
" ahora muestra las imágenes directamente de la cuenta de Pinterest de Koori Style; y la sección de "
About me
" la actualicé con unas cuantas fotos mas recientes ya que las anteriores eran del año pasado jeje.
Oh, y antes de olvidarlo... desde la publicación anterior estrené mi nueva 'firma' para utilizarla cada vez que publique algo nuevo en este lugar ;3
Tengan una linda semana
♥
Lastly, the "Gallery" now displays the images directly from the Koori Style Pinterest account. And in the "About me" section there are some new pictures, since the previous were from last year hehe.

Also I made a small 'signature' to use each time I post something new in this Blog ;3

Have a nice week
♥